News
news archive ... »

---
Craig's 16th Album was released in November 2017. "A LITTLE HELP FROM MY FRIENDS"
We are all very excited about this album as Craig has always wanted to record a full DUETS album with some of his mates.
The album has sixteen great tracks and features Craig with 11 of his "Friends".
---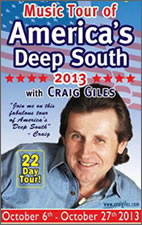 Craig's International Music Tours & Cruises, continue there success..
When Craig Giles was engaged by John Howie and Travelrite International to be the Celebrity Host for the 2010 MUSIC TOUR OF AMERICA'S DEEP SOUTH, no one realised just how successful it would be.
Craig was engaged for this tour because of his knowledge & passion for both Country & Rock'n'Roll Music.
Owing to the outstanding success of the 2010 Tour, it was decided to make it a regular event.
The 2011, 2012, 2013, 2015, 2017 & 2019 Tours have been just as successful.

In 2014 Craig was the Celebrity Host for the MUSIC TOUR OF SCOTLAND & IRELAND. Another outstanding tour of first class music and scenery.
2017 Was an outstanding Music Cruise / Tour of Canada & Alaska. Then 2018 it was New Zealands turn.
---
February 2012

CRAIG & ROZ GILES have just returned from a 17 day Music Cruise on the luxurious "Radiance Of The Seas". The Travelrite Tour Group were treated to exclusive concerts by CRAIG GILES, ADAM HARVEY, BECCY COLE, LAURA DOWNING, CAROLE STURTZEL, The HOWIE BROTHERS & an on-shore performance by the BARRAMUNDI BROTHERS.
---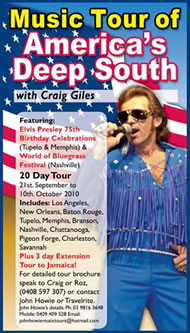 2010 Music Tour of America's Deep South
When Craig Giles was engaged by John Howie and Travelrite International to be the Celebrity Host for the 2010 MUSIC TOUR OF AMERICA'S DEEP SOUTH , no one realised just how successful it would be.
The 2010 tour group comprised of 52 music loving people from all over Australia all anxious to experience the variety of Entertainment, Cuisine and Sights that this tour offered.
After landing in Los Angeles, it was onto a luxurious coach and off to see Hollywood and surrounding districts. The next day, further south to New Orleans for some world class Jazz and Cajun Food.
Whilst in New Orleans Craig was delighted with the opportunity to sing a couple of numbers with local Jazz identity, Hack Bartholomew . Then on to Baton Rouge and Breaux Bridge districts for an informative tour of the Laura Plantation and an enjoyable swamp excursion.
Then came Tupelo, Mississippi where Craig had the honour of performing his "Tribute to Elvis Presley." This was a very special night and during the performance Craig said "I have done this Tribute many times and in many places but I am overwhelmed at being able to pay homage to "The King" in his own home town of Tupelo, Mississippi and I'm extremely proud to be sharing this moment with
so many of my Aussie mates."
Craig presented another unforgettable performance in Memphis where he was invited to sing with the full Negro Choir at the Legendary Reverend Al Green's Tabernacle Church. Craig enthralled the congregation with his moving rendition of "Peace In The Valley" and then changed the pace to an uptempo version of "Let Us Pray" which had the audience, choir and pastor literally dancing and singing in the isles. It was a very uplifting experience for everyone.
Apart from Craig's main shows, he also treated the group to impromptu performances throughout the entertainment packed tour. Craig's duo partner, Kinta, was also on the tour and accompanied Craig on stage on several occasions including a few songs at a Memphis Honky Tonk and a River Cruise in Savannah much to the delight of their rowdy Aussie mates and appreciative locals. The group were thrilled when they met up with Australia's own Hamish and Lachlan Davidson "The Davison Brothers" after the International Bluegrass Music Awards Show at Nashville.
---
Craig Inducted to Wall of Fame
On 21st January 2010 Craig was inducted onto the WALL OF FAME at LBS Studio,s Tamworth, NSW
---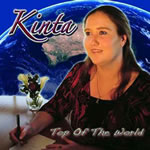 2009 KINTA Joins the Big River Entertainment Team.
Up until 2009, Kinta had done local gigs and several fundraising events. Since being signed to Big River Entertainment in 2009, she has performed in most states in Australia and also joined Craig Giles on some of his International performances in America.
Kinta has recently released her much anticipated album, Top Of The World, which contains twelve fabulous tracks.
Contact B.R.E. for more info on the album.


---
more news in news archive ...

»