Biography
CRAIG GILES "Hands Of Fame "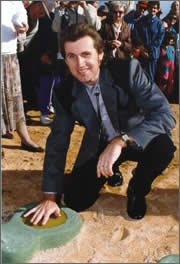 Years of constant traveling, a string of successful albums and hit-singles plus endless awards and accolades that just keep coming, has well and truly earned this entertaining artist a prominent place amongst the cream of Australian entertainers.
Based in the Temora, NSW, Craig's popularity sees him touring extensively and playing to many types of audiences Australia wide, from the Opera House in Sydney to the Wrest Point Casino in Hobart. Craig also tours Internationally and his performances have been enjoyed in the Hokonui Hills in New Zealand, various States & Towns in America, Scotland, Ireland, London, Canada & Alaska. Craig has also been a celebrity host for many Cruises & International Tours. No matter where this dynamic entertainer performs, his show is always first class.
Craig is acclaimed as 'Mr. Versatile', by media and fans alike, owing to his ability to adapt his rich voice to his extensive and varied repertoire, which spans the spectrum of Ballads through to all styles of Country and on to Rockabilly and the ever popular 50's-60's Rock and Roll. Craig always presents an energetic and spontaneous show.
Craig is available as a solo artist, Duo, Trio or Band. His versatility allows him to present his performances in many styles such as Rock and Roll, Country, Cabaret floor-show act with various in-house-bands. Craig's Seniors shows are also very popular.

In November 1998, Craig's, then, home town of Finley paid tribute to him by unveiling a large plaque containing his photo framed by a hand carved wooden scroll and baring the inscription "Finley The Home Of Craig Giles." The plaque is now mounted in the Finley Mall and has become one of the area's tourist attractions. This is truly an honour that any entertainer would be proud of.


In 2009 Craig and his band were the support act for International Super Star, Glen Campbell.


In 2010, 2011, 2012, 2013, 2015, 2017 & 2019 Craig was the Celebrity Host for  THE MUSIC TOUR OF AMERICA where his many & varied performances included "A Tribute To Elvis Presley" in Tupelo, Mississippi, "A Tribute To Johnny Cash" in Chattanooga, a Gospel performance at Al Green's Tabernacle Church in Memphis with the Negro Choir plus many other performances throughout the tour. When COVID19 hit in 2020, Craig's upcoming Scotland/Ireland & Canada/Alaska Tours were postponed until further notice.

Craig has also performed in Scotland, Ireland, London, New Zealand, Canada & Alaska.

2018 saw the release Craig's sixteenth album titled, "With A Little Help From My Friends ."


A polished and compelling entertainer whose  professionalism, enthusiasm and dedication has earned him respect throughout the music industry;  Craig Giles is the consummate entertainer.


---
a few of Craig's Awards & Achievements
| | |
| --- | --- |
| 1999 | Craig gained even more international airplay and recognition after the release of his seventh album, 'Ghost On The Highway.' |
| 2000 | Won BEST COUNTRY MALE ENTERTAINER in A.C.M.L.A. People's Choice Awards and was also voted into the TOP 5 of the Album, Song and Band categories. |
| | Released eighth album "TRY A LITTLE KINDNESS" (Gospel album) |
| | Won MOST POPULAR ARTIST ON TOUR in the INDEPENDENT C.M. AWARDS |
| | Launched the official CRAIG GILES WEB SITE |
| 2002 | Nominated in GOLDEN SADDLE AWARDS |
| | Released ninth album "No Matter What" |
| | Won ALBUM OF THE YEAR with "NO MATTER WHAT" in the TASMANIAN & NEW ZEALAND SONGWRITERS AWARDS |
| 2003 | Won VOCAL COLLABORATION for the song "NO MATTER WHAT" in the TIARA AWARDS |
| | Nominated in C.M.A.A TOP TEN INDEPENDENT ENTERTAINERS OF THE YEAR |
| | Released tenth album "Your Requests" |
| 2005 | WON Open Contemp. Section of the TAS. & NZ SONGWRITERS CONTEST and also secured second in the same section. |
| | Won "Australian Touring Artist" in the National Australian Country Recording Awards (ACRA) |
| | Release 11th album "Kick It" |
| | Finalist in the National Section of the Victorian C.M.Awards (Duet with Sharon Benjamin) |
| 2006 | "Who Said Girls Don't Drive" Video Clip on Top 20 Drive Songs on CMC |
| | Won "Australian Artist On Tour" section in the National Australian Country Recording Awards |
| | Placed in the TOP 5 of the TOURING ARTIST OF THE YEAR section of the 2006 NSW GOLD MEDALLION AWARDS |
| 2007 | Finalist in Bush Ballad section of Horsham Country Music Awards |
| | Finalist in MALE VOCAL, ALBUM & SONG sections of PEOPLES CHOICE AWARDS |
| | Won "Australian Artist On Tour" section in the National Australian Country Recording Awards |
| 2008 | Finalist in Bush Ballad section of the PEOPLES CHOICE AWARDS |
| | Finalist in CONTEMPORARY COUNTRY SONG section of the TSA Awards |
| | Finalist in the National Section of the Victorian C.M.Awards (Duet with Reg Poole) |
| | Won SILVER MEDALLION for "Touring Artist" in the GOLD MEDALLION AWARDS |
| | Won the "Reg Lindsay MALE ENTERTAINER section at the A.C.A. Awards |
| | Won the COUNTRY ARTIST ON TOUR section of the A.C.A Awards |
| 2009 | Won the COUNTRY ARTIST ON TOUR section of the A.C.A Awards |
| | Support act for International Country Legend - GLEN CAMPBELL |
| 2010 | Inducted onto the WALL OF FAME at LBS Studios in Tamworth, NSW |
| 2010 | CELEBRITY HOST of THE MUSIC TOUR OF AMERICA'S DEEP SOUTH |
| 2011 | CELEBRITY HOST of THE MUSIC TOUR OF AMERICA including LAS VEGAS & WASHINGTON |
| | |
| --- | --- |
| 2012 | CELEBRITY HOST of THE MUSIC TOUR OF AMERICA'S DEEP SOUTH |
| | |
| --- | --- |
| 2013 | CELEBRITY HOST of THE MUSIC TOUR OF AMERICA'S DEEP SOUTH |
| | |
| --- | --- |
| 2014 | CELEBRITY HOST of THE MUSIC TOUR OF SCOTLAND, IRELAND & LONDON |
| | |
| --- | --- |
| 2015 | CELEBRITY HOST of THE MUSIC TOUR OF AMERICA'S DEEP SOUTH |
| | |
| --- | --- |
| 2017 | CELEBRITY HOST of THE MUSIC TOUR OF CANADA & ALASKA |
| | |
| --- | --- |
| 2017 | CELEBRITY HOST of THE MUSIC TOUR OF AMERICA'S DEEP SOUTH |
| | |
| --- | --- |
| 2018 | CELEBRITY HOST of THE MUSIC TOUR OF NEW ZEALAND |
| | |
| --- | --- |
| 2019 | CELEBRITY HOST of THE MUSIC TOUR OF AMERICA |
Charted Singles
Regular Television Appearances
2009
When Am I Going Home
VIC. T.V. Shepparton.
2007
A Million Beerdrops
R.V.N. 2, Wagga Wagga.
2006
Riding That White Line
A.M.V. 4, Albury.
2005
Who Said Girls Don't Drive
The Ernie and Denise Show.
2003
Getting Too Old For This
5 A Renmark, S.A.
2002
Better Back Up
It's Country Today ' (Ch31 - NZ National TV)
1999
Hokonui Hills
1998
Jewel On The Newell
1997
You Used To Call Me Sweetheart
1996
Lady Luck
1996
Outback Man
1996
Captured
1995
His Spurs Are Rusty Now
1994
Tired Of Loving You


1993
Ambush
1993
This One's For You
1992
From Frankie With Love
1991
Way Back Down The Line
1990
Rusty Memories
1989
Take Me Home
1988
Daddy Clown