News (Archive)
back to current news ... »
---
Nov 2009
NEW ALBUM OUT NOW ... "THIS OLD HOUSE" ...
Craig released his 13th album titled "THIS OLD HOUSE" at the 2009 Mildura Country Music Festival. Being "Lucky 13" the album contains 13 great songs.
Poetry In Motion, Starlight Starbright, Baby Why Oh Why, Crazy Arms, Splish Splash, Ruby Baby, Someone Must Feel Like A Fool, Talk Back Trembling Lips, Je T'aime, Such A Night, Blame It On The Bossonova, This Old House and a Johnny Cash Medley.
---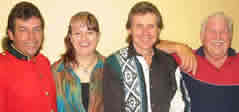 ALL STAR COUNTRY ROADSHOW

The ALL STAR COUNTRY ROADSHOW hits the road again in NOVEMBER 2009.
CRAIG GILES, OWEN BLUNDELL REG POOLE & SHARON BENJAMIN join forces to take you on a musical journey with a variety of old and new songs as well as some unpredictable comedy.

See Craig's Tour Page for full itinerary.


---
THREE MORE AWARDS FOR CRAIG
ACA (Australian Country Awards) Announced at Wagga on 8th November 2008
Craig won "COUNTRY ARTIST ON TOUR" for the fourth consecutive year.
Craig won "THE REG LINDSAY MALE ENTERTAINER OF THE YEAR."

Gold Medallion Awards held at Tamworth on 8th November 2008.
Craig won the Silver Medallion for the "2008 TOURING ARTIST"
---
Country Song Of the Year Finalist
Finalist in the Contemporary Country Song Of The Year section of the 2008 TSA AWARDS with "Picture On The Mantle" written by Craig & Roz Giles & Reg Meffert. This song is on Craig's latest album, "Heart Of Australia" which was released earlier this year
---
Bush Ballad Peoples Choice Finalist
Finalist in the Bush Ballad section of the 2008 PEOPLES CHOICE AWARDS with "Fair Dinkum Aussie" written by Craig & Roz Giles & Lorna Nelson.
This song is also on Craig's latest album, "Heart Of Australia".
---
back to current news ...

»